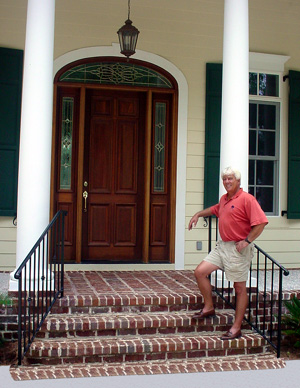 Jerry Davis is one of the most experienced and knowledgeable builders in Hilton Head, Bluffton and the LowCountry. He began building homes when he was a boy, working with his father to build their home in the South Carolina Upstate. Jerry graduated from the University of South Carolina and later, as his love for construction continued, he began his construction company, Jerry Davis Custom Homes, in Columbia, South Carolina in 1982.
In 1999, Jerry moved his family to the LowCountry, an area of South Carolina in which he had always wanted to live because of its natural beauty and growing economic climate. Jerry Davis Custom Homes prides itself in customer relationships. Jerry keeps an open line of communication with all of his clients ensuring that every detail of the home building process follows their exact wishes. Jerry oversees all construction personally and is always available to his clients.
Extremely flexible in building all types of homes, Jerry welcomes his clients to bring their own plans or sit down with him to develop plans with an architect best suited to their particular needs and desires.
Jerry understands that building your dream home is the biggest investment you will ever make. Jerry Davis Custom Homes knows everyone's dream looks different, and every style and budget is important. With 30+ years of experience, we can help you make the big and small decisions, no matter the size of your dream.